Search Engine Optimisation (SEO) can be such an over complicated topic these days that many marketing companies take advantage of it.
The bottom line is – as a private doctor, the need for a well-rounded SEO strategy is absolutely essential in 2022. In this guide, I am going to show you the top ways to dominate Google search with SEO for your medical practice.
Why SEO Matters for Medical Practices
In the United Kingdom alone, there are an average of 7,600 monthly Google searches for the term 'private GP', and roughly 4,100 monthly Google searches for 'doctor near me'.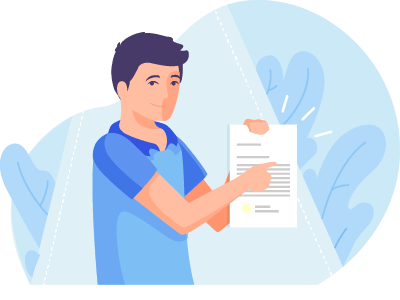 Due to the needs of people (potential patients), and search trends, as well as the growth of digital search, the figures are only growing upward.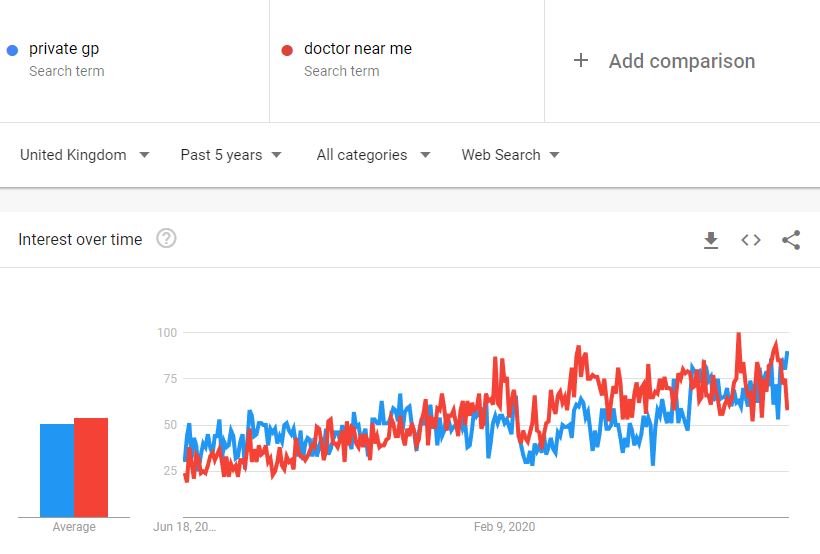 Google Trends graph showing doctor related search growth over the last 5 years
SEO for Doctors Baseline: Run an extensive Website and Content Audit
We check to close on 75 elements on a website when running a full website audit.
This section will detail the top 5 points of technical SEO that are essential to your medical website. After the tech is out of the way, we will get into auditing your content and keyword visibility.
The only way to truly plan ahead is to know what you are currently dealing with and the status of your current website.
This is traditionally the time for an SEO audit of some kind to analyse many different technical factors, Google accessibility, and user engagement factors.
We use a solid website audit framework that covers every aspect of your website and assigns page-level actions to each and every URL.
We assess the quality of your website by looking at a number of different data inputs, including inbound links, titles, content depth, sales from organic traffic, keyword rankings, and more.
After running the audit process, we assign page-level actions (directives) to every page we have audited on your site in order to allow our team to structure an action plan based on priority in order to start implementing fixes as soon as possible.
Doctors SEO Audit Checklist
There are hundreds of different factors that Google takes into account within its search algorithm.
Plus, it changes all the time! In 2021, we saw 3 confirmed Google core updates that addressed their entire 'core' of how they assess various quality ratings and search guidelines.
In 2020, Google made a total of 4,500 different tweaks and changes to its algorithm throughout the year.
HOWEVER, there are a wide variety of fundamental principles you can audit that will always be needed to rank your doctor's site.
We will discuss the top 5 technical elements to check. Most of the time we find many issues within these 5 segments of technical SEO.
Find out more about our Healthcare SEO Agency.
Number 1: Website crawl and accessibility errors
A website crawl is when Google (or any other search engine) comes to your website and scans through the content of your site.
The crawl process also looks for other links on your website and tries to make connections between the pages, topical references, and hierarchy.
Site crawling is not limited to search engines, various digital tools, and SEO software will also perform crawls on your website.
These crawlers are also known as 'bots'. According to a post from Sovrn on crawling, there are two most common types of crawls:
Site crawls are an attempt to crawl an entire site at one time, starting with the home page. It will grab links from that page, to continue crawling the site to other content of the site.
Page crawls are the attempt by a crawler to crawl a single page or blog post.
If there are page errors and the search engine (crawler) can not access your website, it will send negative signals and eventually end up abandoning the crawl.
For example, if Google tries to crawl your website but it can not access a series of broken pages or error pages, it will basically leave and visit your site less frequently. This is a huge problem and one that we see often.

404 error pages or broken pages cause indexing issues
Number 2: Analyse Page Speed and Load Time
Google requires all websites to load as fast as possible and ideally in under 3 seconds (maximum 3 seconds).
They aim to give their audience the best possible experiences and we also expect that!
There are many elements that could be impacting a website's load time, a few of the most common we see are code-related or image related. For example:
Reducing unused CSS and reducing unused rules from stylesheets will decrease the total bytes consumed with load network activity (basically, speed loading up).
Properly sizing images will cause the pages to load faster as the images will then be appropriately sized to save cellular data and improve load time. 
By serving images in next-gen formats, you have better compression than PNG or JPEG, which means faster downloads and less data consumption.
Reducing First Contentful Paint (FCP) time will allow the browser to render the very first piece of content faster as soon as a user navigates to your page.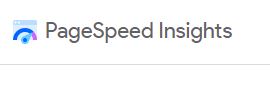 Google Page Speed test showing slow mobile results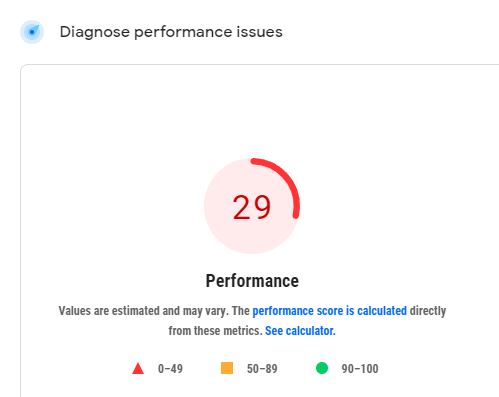 Number 3: Check the Robots.txt File
What is a robots.txt file?
A robots.txt is a text file that sits at the root of your website and it instructs engines, crawlers, or any web robots if they can access and crawl your website. It will also instruct crawlers on how they can crawl the pages on your site.
This can be very helpful if you are specifically wanting to block a section of your website or a page from your website that may only be used for internal purposes, or for admin purposes.
For example, it is common to block the admin login page to a website, an internal team scheduling section of the website as well as the add-to-cart or check-out pages on an E-commerce website.
Some site owners will block large categories and tags which may contain hundreds or thousands of pages that are needed for the user.
This is helpful to avoid things like duplicate problems and index bloat.
However, be sure that EVERY valuable page on your website is available and ready to be crawled!
Very often a page will be blocked in the robots.txt file by mistake which will then tell search engines that they can not access that page.
The part which says 'user-agent' is referencing any search engine, crawler, or website bot. The small  * means they are allowed to visit the website. If there were no *, then they would not be allowed to access the website.
User-agent:* (all crawlers visit my site)
The word 'disallow' will block a specific page or section of your website – no crawlers are allowed to access this section.
Disallow: /wp-admin/ (not allowed to access this admin section)
The opposite happens with the 'allow' directive. Having the word 'allow' means that the crawlers can access a specific section, or the entire website (advised).
Allow: /page-name (allowed full access to the page and section)
What does a robots.txt file look like?
The robots file is literally just a TXT file containing text instructions. However, these instructions have many different meanings and can be very dangerous to mess around with so use caution.
Here are a few examples: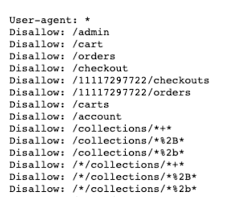 Number 4: Check Your XML Sitemap
What is the XML sitemap?
The XML sitemap serves as a map or structure for Google and other search engine crawlers to understand the flow, setup, and content hierarchy of your website.
Essentially helps the crawlers find your website pages, makes the connections between the pages, and ranks the pages accordingly. 
Site structure is extremely important for both your potential patients as well as for search engines. 
The XML sitemap is a file system that is only intended for search engines to see and access, and it looks like a whole bunch of code and page links.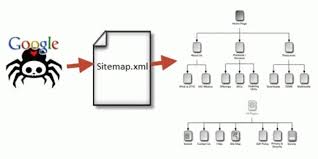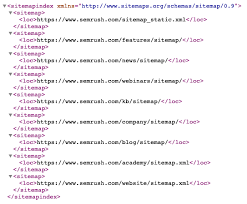 Visual examples of an XML sitemap, one is a code view showing folder and page structure
XML sitemap best practice
Create a valid XML sitemap and test it extensively. Once you have created it, submit the XML sitemap to Google by using Google Search Console.
Ensure that there are no broken or 404 error pages on your XML sitemap.
Check your sitemap to make sure that ALL of your pages and posts (articles) are in the sitemap.
Here are some guidelines from Google on the SML sitemap protocol.
Number 5: Structure Data (Schema)
What is Structured data?
Have you ever seen 5-star ratings, reviews, short introductions or answers to your search queries right there in the Google search results?
This is thanks to structured data (aka Schema or Schema mark-up).
As a private doctor practicing in a specific location, it is essential to have relevant schema and mark-up on your website to promote things such as local business results, patient reviews as well as business operation information.
Structured data is additional code that is wrapped around your content to help search engines crawl and understand the content in a more organised fashion.
Schema gives search engines the ability to extract certain information or images from your pages and show them in the search results which often results in more visibility and higher click-through rates.
There are MANY different types  (0ver 792 schema types according to this study of structured data with specific purposes, but there are just 3 main formats of Schema markup.
The three main formats are:
JSON-LD
Microdata
RDFa
What are the common types of structured data used on websites?
Generally, these are the most common types of Schema markup we see:
 Creative works: CreativeWork, Book, Movie, MusicRecording, Recipe, TVSeries
Embedded non-text objects: AudioObject, ImageObject, VideoObject
Event
Organization
Person
Place, Local Business, Restaurant 
Product, Offer
Review
FAQ
What does it look like?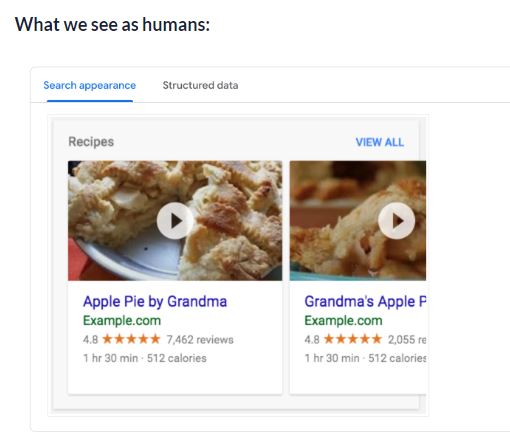 What a human will see in a Google search with a specific recipe related schema markup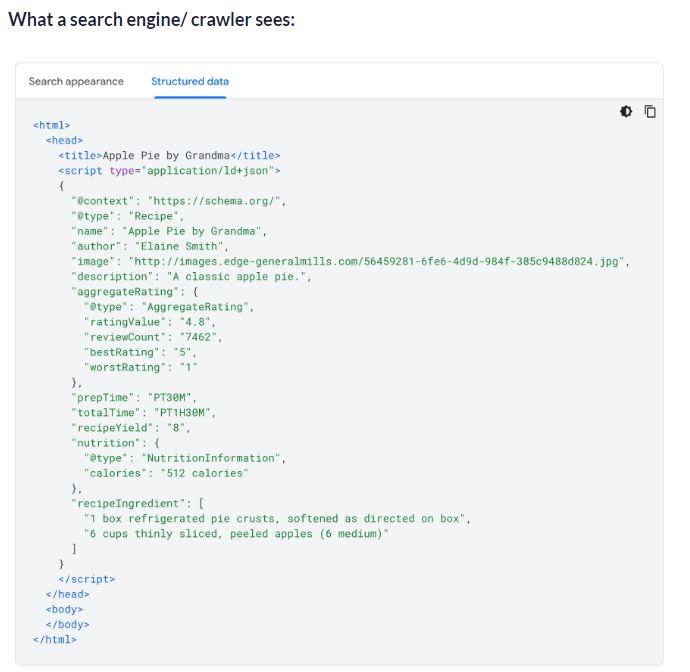 What a search engine sees when we apply schema mark up and structured data
Schema mark-up for Healthcare and Doctors
I just typed 'private GP ratings uk' into Google and got the following results which is an example of review schema: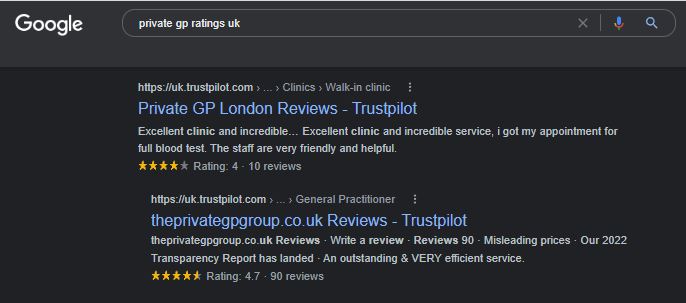 Example of structured data pulling public reviews and star ratings in Google search.
BUT, it gets even better when more types of physician schema are added: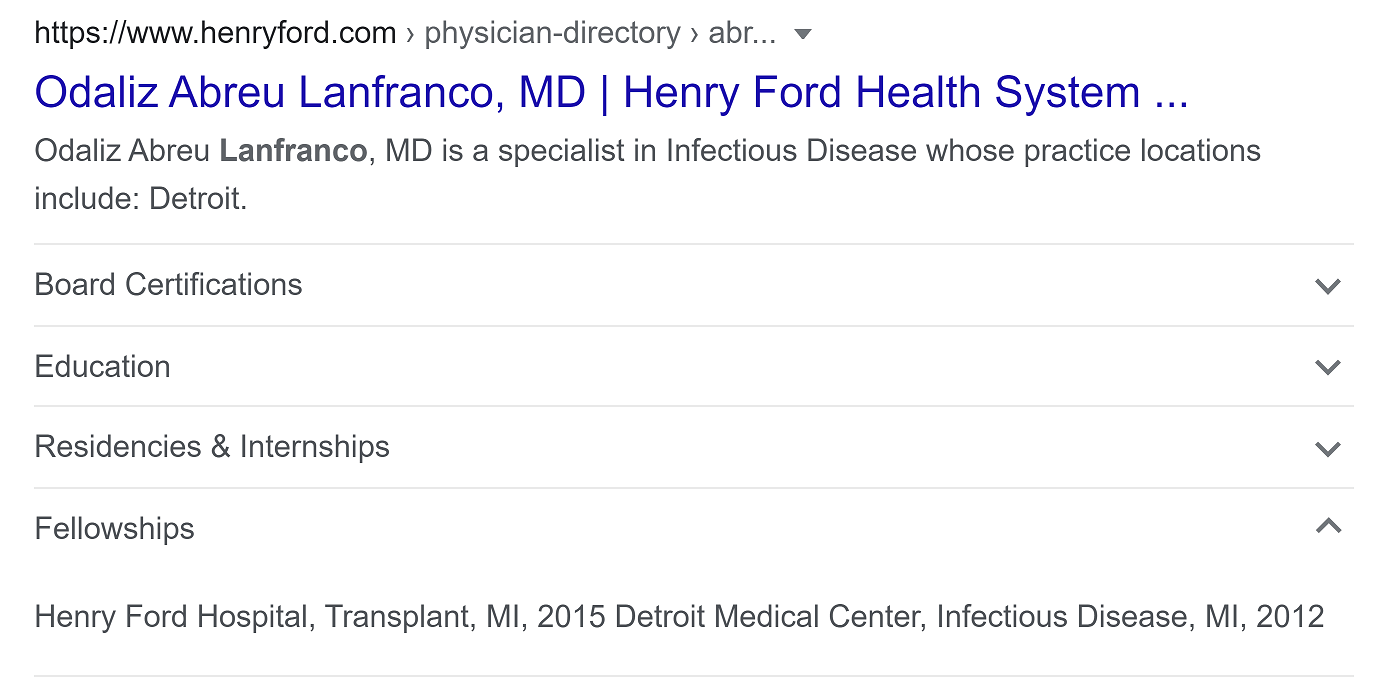 MD information, education and career experience fully visible in Google search due to healthcare structured data

Combining multiple rich snippets within healthcare doctor schema
If the review Schema is done correctly and you have reviews, you will get beautiful-looking stars next to your listing which is a great way to build trust with potential patients.
Another great advantage of structured data is that it allows you to occupy more space in the SERP, in order to push your competitors further down the page.
If schema helps your brand unlock additional data points for Google to gain more insights into your content, then take full advantage of the opportunity.
In medical clinics and health industries, the opportunity exists to create entities for your doctors and connect them to the medical organizations or clinics they work for through schema markup. 
Many patients' health journey starts with a Google search and you have the chance to showcase your services and private doctors in a meaningful manner with Structured data. Read more about SEO or Plastic Surgeons.
Healthcare review statistics image portraying consumer behavior in search – according to Schema App
How We Structure Our Master SEO Audit File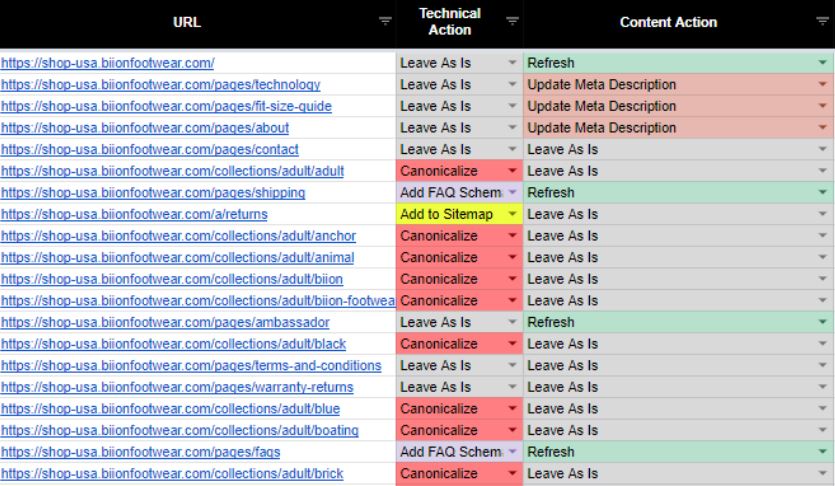 Running a medical practice SEO audit can be complicated, especially when showing the audit findings. 
We keep it short, punchy, and show valuable outcomes.
Doctors have enough happening around them on a daily basis to try to understand your technical SEO jargon. Frankly, they shouldn't have to.
We need to show them our solution to their problem. Thats it.
The output of our website audits will come with a full slide deck document for the medical practice which has everything well presented in a visually pleasing manner.
We also include the information and reference links to all of the supporting data from our medical site audit.
This way we can show all the technical information if they need it and anyone can see that we know what we are talking about.
Navigating through the site sections
We work through every page, path, and image of your website and assign page sections and categories to easily understand the layout of your medical practice site, page types, and overall structure.
The site sections also allow us to segment the site and better prioritize pages/keywords to focus on.
It allows us to compare "apples to apples" (i.e. we don't want to be comparing an FAQ page to a product page).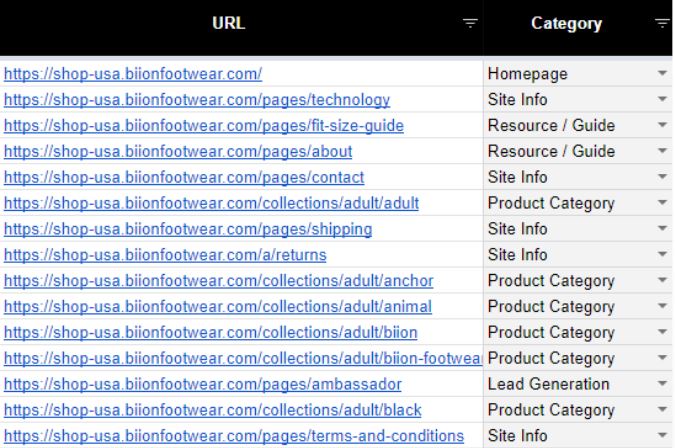 Each page from your medical practice website is placed in 'site sections' to prioritise our work.
Let's go through these sections as well as examples.
Site Info:
This is a broad tag that applies to a wide range of pages. Essentially, these are the required pages to build out a full site but generally have little SEO (i.e. traffic potential) value.
This can include about pages, cart pages, terms and services, contact pages, shipping, FAQ, and more. However, for a doctor's practice, information about the team of doctors or 'meet the team' is very important to have.

Medical Services:
These are pages that list out exactly what services the medical practice offers and provides all of the relevant information to that specific medical service.
Local Lander:
A local lander is a dedicated page to a given location. If the business has multiple locations, if a private doctor has multiple practices in multiple locations, then each location should have its own dedicated landing page. If the business only has 1 location, this can apply to the home page.
Lead Generation:
This tag applies to pages on a site that are geared towards generating leads. For example, a private GP could be trying to rank for keywords related to the different services they provide (prescriptions, annual health checks, Blood pressure checks etc).
Each of these keywords should have a dedicated landing page targeting those keywords and there needs to be a smart form of structure to capturing these leads built into each page.
Blog Post:
This tag applies to blog posts. Some sites will have /blog/ or /news/ (or something similar) build into the URL structure.
Blog Category:
This tag applies to categories of blog posts. These are generally used on bigger sites that publish a lot of content in order to better organise posts.
Resource or Guide:
Similar to a blog post, but more in-depth and robust. Resources or guides are NOT connected to the blog, but instead are stand-alone pages or site sections. In healthcare, these can be extremely helpful to illustrate certain conditions or information in the form of a graphic or video.
Understanding the Actions of Each URL
Each URL gets assigned a technical or content action (or both) that labels what needs to be done with that particular page. This will translate into a priority list of which items to tackle first.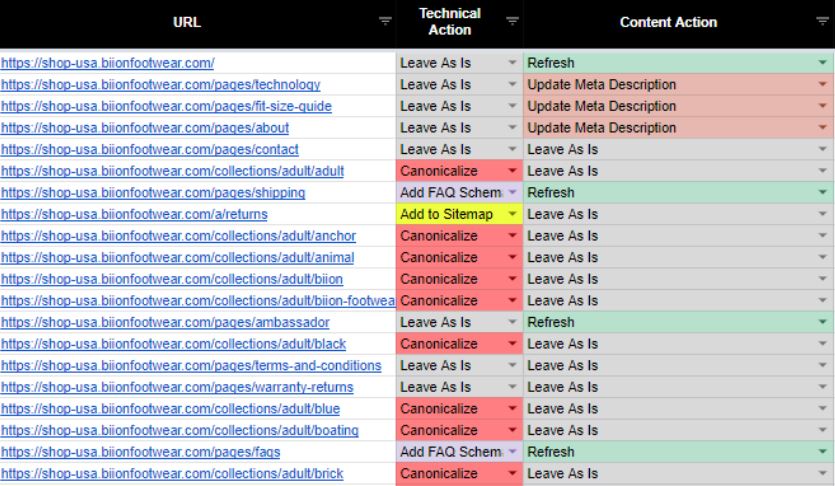 We assign a technical action as well as a content action to each of the pages on your site.
Let's go through them as well as the definitions.
Technical Actions
301 Redirect:
A 301 redirect is a powerful method to clean up pages. It's a permanent page redirect that passes 100% of equity from page to page. That means that both the link equity and keyword rankings will pass over.
We use 301 redirects as our primary method of combining or removing pages.
Schema Markup (Structured Data):
As discussed earlier, Schema markup is a form of microdata that provides an enhanced description (commonly known as a rich snippet), which appears in search results.
Certain page types benefit drastically from Schema and should be added accordingly.
Block Crawl:
If you have a group of pages or sections within your site that serves no specific purpose or value to search engines (but are important to website visitors), the best option is to block that section from being crawled.
This works best when pages are grouped by URL structure (i.e. /archives/).
Canonicalise:
Specify ONE version of a webpage to avoid any duplicate content. If you have similar pages targeting the same topic but you NEED both pages (i.e. you don't want to remove the page), set a canonical tag that points to the page you want to rank.
NoIndex:
If you want to stop Google from indexing a low-quality page or duplicate content, use this tag. Blocking Crawl is reserved for a number of pages or site sections, No Index is reserved for individual or stand-alone pages.
This can be executed by placing the index tag in the head section of your source code.
The need for this will often arise with large E-commerce sites with thousands of pages and products.
Remove from Sitemap:
If you have a dead section or page(es) on your website, Use this tag in order to stop Google from assessing it. This will then be removed from your sitemap.
Creating Actionable Next Steps
Using a solid project management tracking system to monitor SEO tasks and deliverables
Words without action are the worst, and clients won't hang around if there is no actionable plan going forward that shows exactly what will take place and when it will be completed.
The art of project management and account management can truly be a hard one, especially when finding the right people for those specific roles.
You will need some sort of tracking system or basic project planning tool (Google Sheets is perfect) in order to manage the delivery of your SEO work.
For example, after we have done a technical audit such as the examples above, we will put each item that needs to be addressed into our project planning system and assign a due date.
The deliverable speaks exactly to the audit finding or the issue identified in the audit. We assign start dates, and end dates to each task, as well as assign time for quality checks before marking the task as complete.
Many companies use tools such as Monday.com or Asana (there are so many PM tools available). Find what works for you and go with it.
We use a robust system within Google sheets for our entire agency flow and management and it works perfectly. There is no need to overcomplicate this process.
Pull out your SEO audit findings, view the action list and create tasks according to each audit finding.
Communicate effectively, ensure there is a strategy in place, and hold people accountable.
Google My Business for Local Doctors
A Google My Business profile helps people in your local area of business to find your website and service details when performing a Google search.
It also allows you to improve the visibility of your brand as it grants you a large space on the right-hand side of the search results (great visibility).
This is a huge opportunity for you to get more local patients, especially as many people search for 'doctor near me' or 'private doctor near me'.
Google My Business is also one of the best ways to keep your contact and location details accurate and up to date as many patients can click to call you, ask a question about your practice and even navigate straight to your doctor's rooms.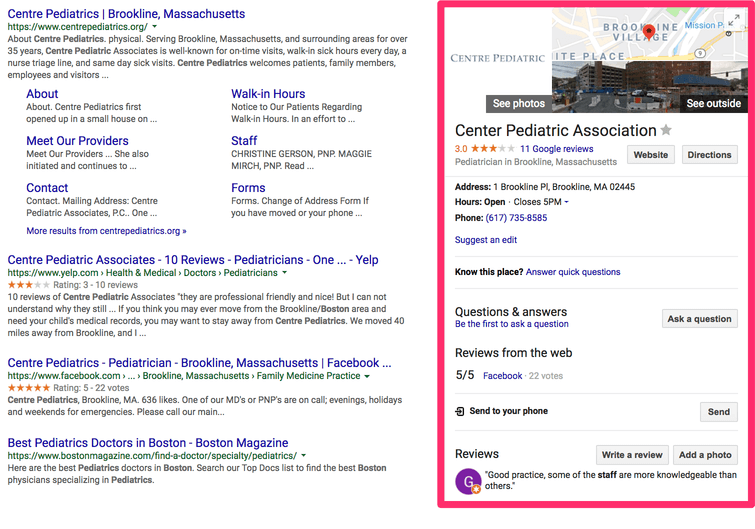 Doctors and healthcare practices need to utilise the power of Google My Business for local search.
A Google My Business Profile (GMB) is free to create and free to use. It requires a few short steps to set it up and it is a great tool to capture a lot of visibility on page 1 of Google.
You need to keep your profile up to date and fresh, as well as take advantage of uploading pictures of your doctor's practice, patient testimonials, and posts (Google posts via Google My Business) about your services.
A GMB profile is only available to companies that have a physical location and who engage with clients.
How Doctors Can Use Google My Business
Add all of the correct contact details
Firstly add all of your relevant contact information such as your practice name, operating hours, phone number, email address, street address as well as the website address. Ensure these are correct!
When you are setting up GMB, it will give you the option to set opening times for your medical practice that can let patients know when you are available and open to taking calls and appointments.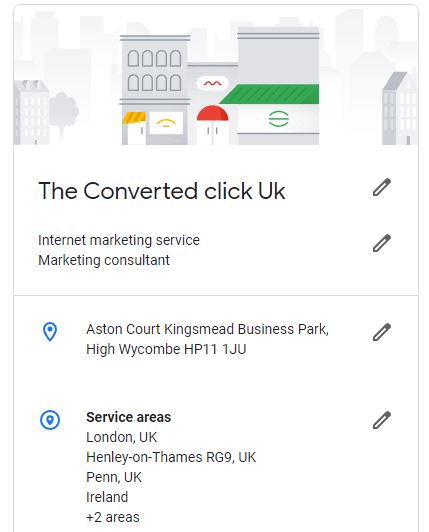 Example of local business contact details in
Google My Business settings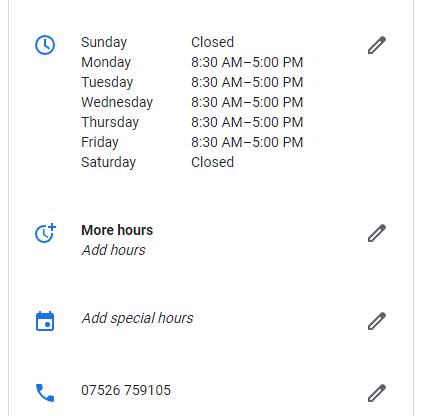 How to add company opening and closing hours in Google My Business
Add a detailed list of the healthcare services you offer
Add ALL of the healthcare services you offer as a medical doctor and add as much information on each service as possible. You can also post any service updates or news at any time in your Google My Business profile.
For example, information or changes to protocol around COVID-19 or parking information should be updated and posted to keep your audience up to date.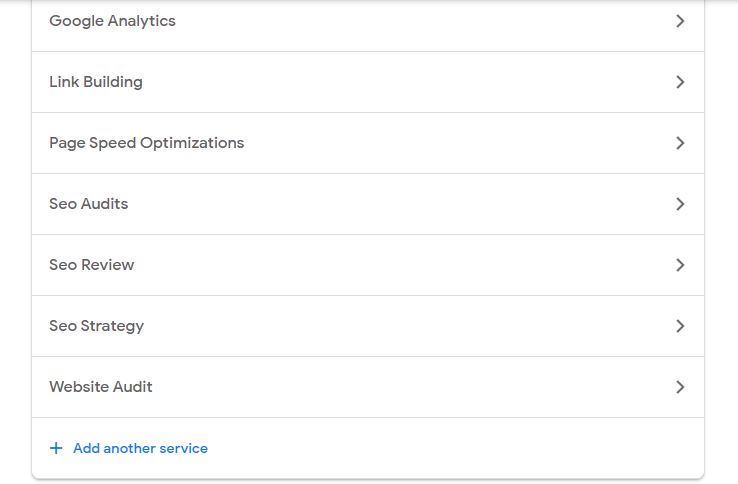 Gain genuine reviews from patients
Google regards patient reviews as brand credibility and trust as a method of social proof.
Gain patient reviews to promote trust and credibility for your medical practice. Encourage your patients to leave you a review on Google after each visit. Alternatively, you can use SMS or email marketing to request a review of your medical practice and healthcare services.
Many patients will be glad to help and leave their comments and star rating.
It is essential to gain trust, especially for a new patient who needs a private doctor and they do knot know about you yet.
Utilise Google posts frequently
Take full advantage of Google posts through Google My Business. Google allows you to add posts through your GMB profile and it is extremely easy to use.
When creating content for your website (articles, guides, blogs or video content), you should also include sending a post about this content via Google Business as a method of promotion for this content.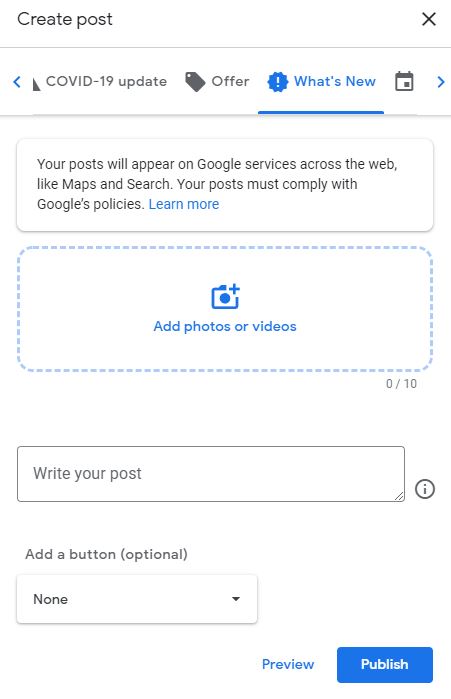 How to create a post via Google My Business
When you are logged into your Google Business profile, simply click on 'POSTS' on the left-hand side and then add your content.
You can decide what content you want to add here, but as a bare minimum, I would suggest the following resources:
Answers to common questions about your medical practice
Healthcare industry news or government updates around
Information about the healthcare industry as well as the NHS
Every article (blog) you have added to your website can be shared here (include a link to the live post)
Patient care information
Infographics
Healthcare topics
Healthy eating tips and nutrition
Medication guides and quick links to information
Keyword Research for Private GPs
Keyword research for a medical practice is the ongoing process of finding the best organic opportunities for a doctor's services and identifying which keyword searches are the most ideal to target.

I often tell clients that keywords should be seen as words for which they want to be known for on Google.
It is important to remember that keyword research is not something that is done once and then completed. It is something that should be relooked and monitored on a frequent basis.
When conducting keyword research, we look at a few different metrics, but, the most common are monthly search volume (how many people are searching for a keyword each month) and keyword difficulty (how tough or competitive a keyword is).
Exploring keywords:
There are many (too many) tools available to conduct solid keyword research. It does not need to be overcomplicated, you need to be sure to nail the search intent and match up your content with what your target audience is looking for.
Firstly, we do want to make sure we target keywords that are relevant and describe the service most accurately.
Secondly, go for keywords that actually have people looking for them. It is perfectly fine to target keywords that have lower monthly searches because very often they are easier to rank for and users searching for such a specific phrase will be most likely to convert.
Medical Practice keyword ideas:
I have added the following keywords to a popular tool called Ahrefs to get some data:
book doctor appointment, book doctor appointment online, doctors practice, private doctor, private doctor London, private doctor near me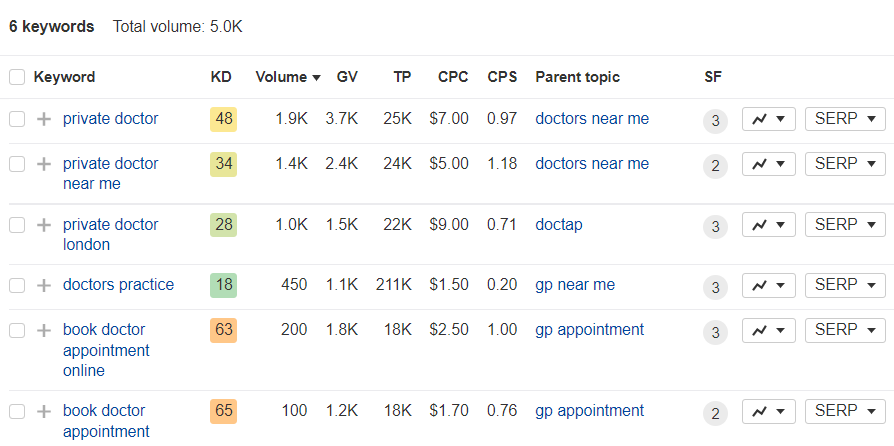 Keyword data example taken from Ahrefs
The image above shows SEO data about each of the keywords that we searched. Firstly, the keywords are listed from the highest search volume per month to the lowest.
The keyword 'private doctor' has an average of 1,900 searches per month within the UK. This is an average calculated over a 12-month period and then listed as monthly.
KD stands for 'keyword difficulty' and represents how competitive a keyword is and how hard it would be to compete for it. Keyword difficulty is scored from 0 to 100 and the higher the difficulty, the harder it will be to compete for this term.
A keyword with a high KD does not mean that you should not use it within your strategy – if the keyword is a core part of your business then go for it. It may just take a little more time to gain more traction on keyword visibility.
Another metric that is often overlooked in SEO is the average cost per click (CPC) for each keyword which shows you how much you would expect to pay per click if you were running a Google Ads campaign.
By understanding the CPC for a keyword, we can benefit form the following information:
The overall popularity of the keyword
The competition levels of the keyword
The value of SEO and money that can be saved by ranking number 1 for the target keyword.
What Keywords Should You Target in Medical SEO?
A medical practice should generally have a good idea of the target keywords they want to optimise their website for. These will be the services that they offer as well as the location details. 
It is also common for patients to search for doctors by name, so it is important that each doctor has their own 'about' page that has a wealth of information about their qualifications, experience and speciality.
A simple way to start getting more ideas on what keywords to target would be to navigate to your doctor website and click on the 'services' tab.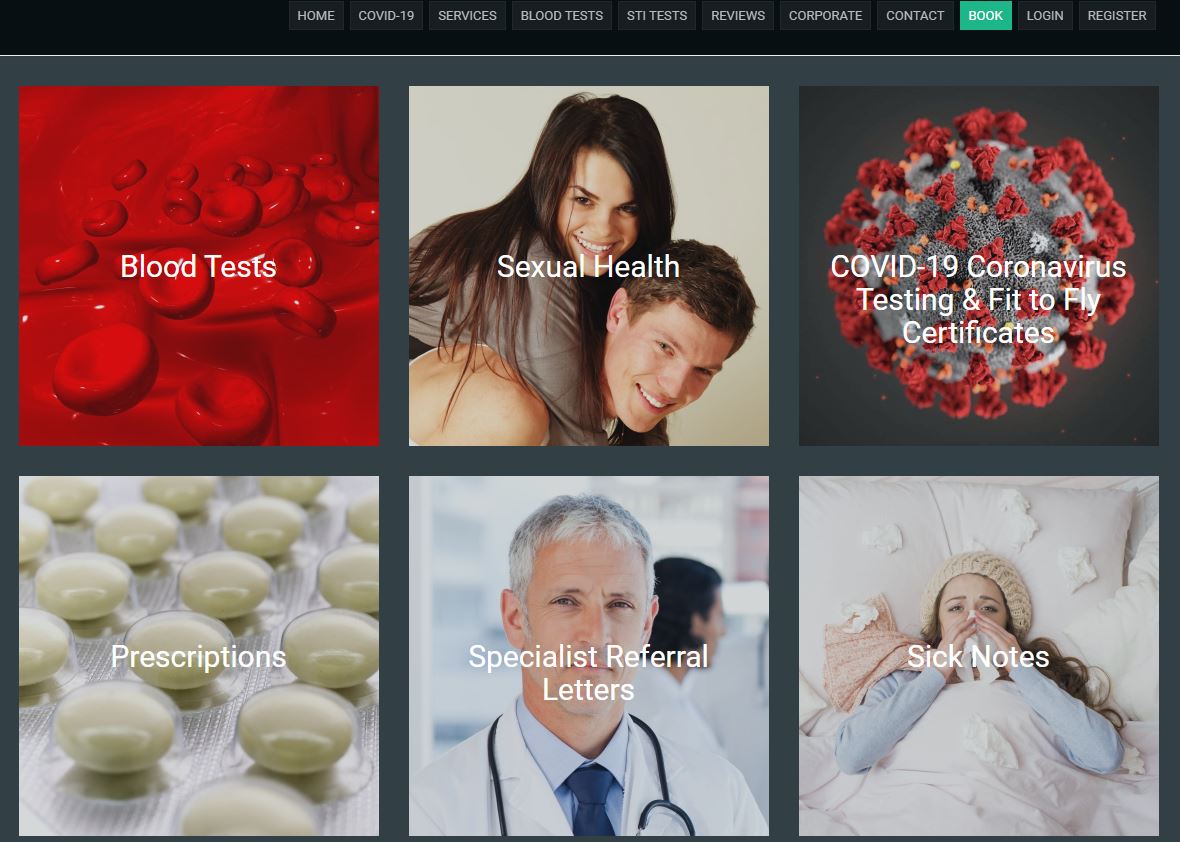 Looking at a doctor's services pages and landing pages will give you target keyword ideas
The example above is a general service landing page or category page that shows each service the doctor offers. This is good for broad keyword ideas and can give you examples of the higher search volumes to go for.
But you will need to go deeper into each service type and explore more. For example, the phrase 'blood tests' is a pillar term (broad term) that has many variations and different types of blood tests.
You may find that the broader terms have higher monthly search volume, but also more competition and higher keyword difficulty.
You can still go for these but you will benefit from getting keywords around the different types of blood tests available and use these to your advantage.
For example:
The keyword term 'blood tests' has an average of 6,400 organic searches per month but it has a keyword difficulty (KD) of 52/100 which is considered hard.

Broader keywords have high search volume but can be more difficult due to popularity
If I expand slightly on the keyword and add a few additional words and modifiers onto it, I can see that there are keywords around the types of blood tests and these keywords still have high search volume but their KD (keyword difficulty) is lower: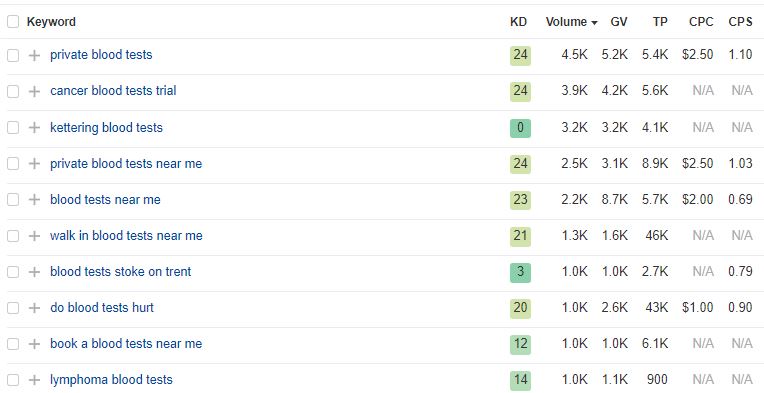 Adding a keyword modifier brings down the overall keyword difficulty and still has good monthly search volume
By adding the single word 'private' to the regional search, we now have the phrase 'private blood tests' that has 4,500 searches per month and a keyword difficulty of 24.
This allows you to refine your content to still focus on the main topic of blood tests, but you will cover private blood tests too.
In fact, if you have a long-form informational page that explains the whole process of having blood tests and what patients can expect, you could capture visibility for a variety of keywords around 'blood tests'.
Your main service page (money page) that encourages patients to book online or phone to book an appointment for blood tests will still be focused and optimised around the core phrase, however, mentioning variations of this keyword in a natural manner in supporting content will boost the overall visibility.
Question-Based Search Queries
Google loves showing answers to questions and they try to achieve this as quickly as possible.
Targeting question-based searches is a great way to gain online new patients through search, as you can refine y our content to answer questions accurately and efficiently.
If you were sitting in front of a doctor (the industry expert) what would you ask them about a blood test? Would you ask how long it takes? Would you ask them if it is painful?
Take these natural questions that you would ask a doctor, and use them in your content.
Don't always focus on keyword search volume, very often, the answer is closer than you think and it will make sense to speak about a keyword and a topic regardless of its volume.
However, if you need some initial ideas, go into Google and type in a question or a keyword. It will automatically detect your writing and give you suggestions based on frequently searched keywords and also keywords based on your own personal search history.
This is also known as 'Google suggest':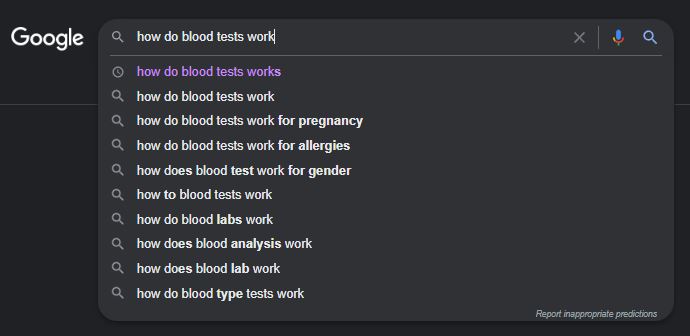 Using the 'People Also Ask' Function in Google
The 'People Also Ask box is a rich snippet feature that Google will use to provide users with additional information that may be relevant to their first search query.
This is not always 100% accurate and you will come across some strange spelling here and there but it is helpful to generate some ideas.
Question-based queries are great for sub-headings in a content piece and you can find a lot of information to use.
I always say that it is best to think about the topic and the service from your own natural perspective and think of what kind of questions you would ask someone about this topic in a natural manner.
This a great resource for more information about how to rank in the PAA section of Google.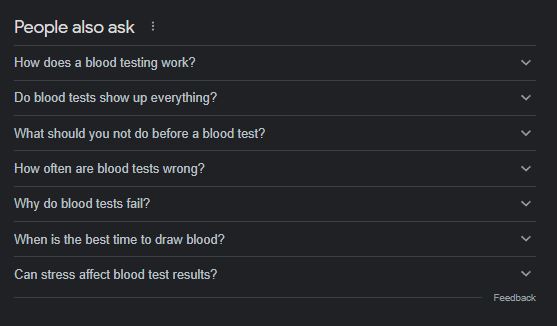 Referencing the People Also Ask function in Google can be a good starting point for content sub-headings and sub-topics.
How To Leverage Existing Content for Keyword Ideas
Reference your website content as well as your competitor's content to see what topics are mentioned in the page title, headings, sub-headings and additional links.
This will give you insight into what a page is talking about and if it is optimised for that topic.
For example, on this page, it is clear that this medical practice offers kidney function blood tests in London. They have added the 'London' part as a local modifier.
They also reference the importance of kidney function and what they do.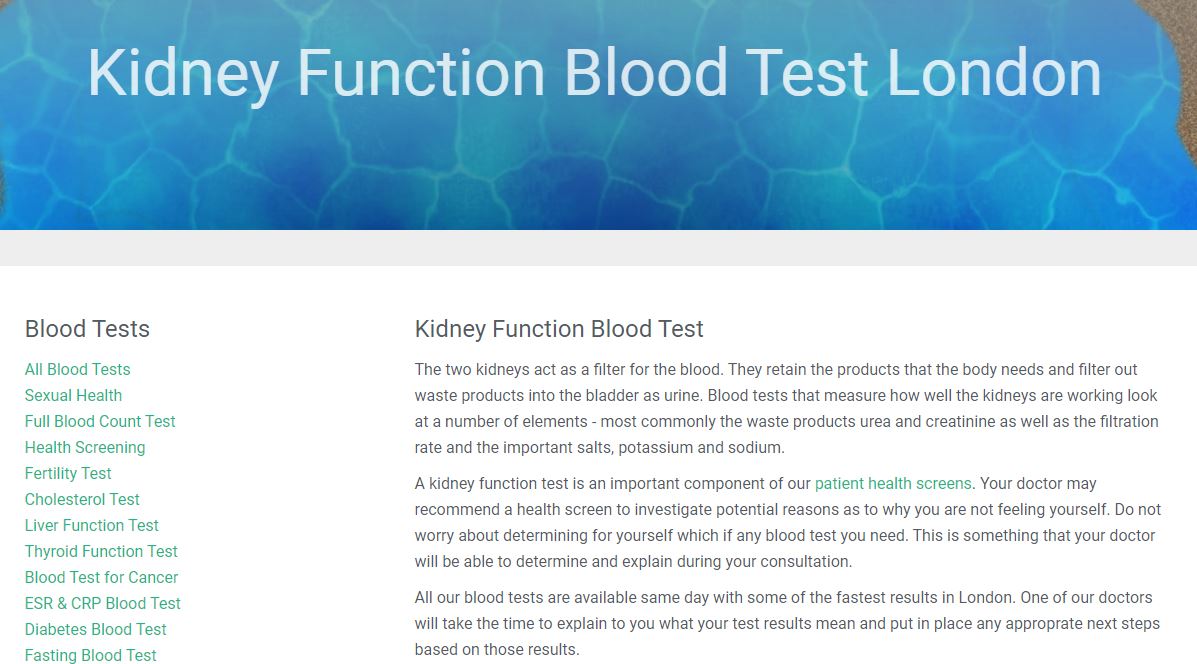 How to identify top performing keywords and topics on an existing page
Further down on the page they have a well-laid-out structure of questions and answers as well as positive reviews. 
It is done in a visually appealing manner, builds trust, and also provides answers to important questions.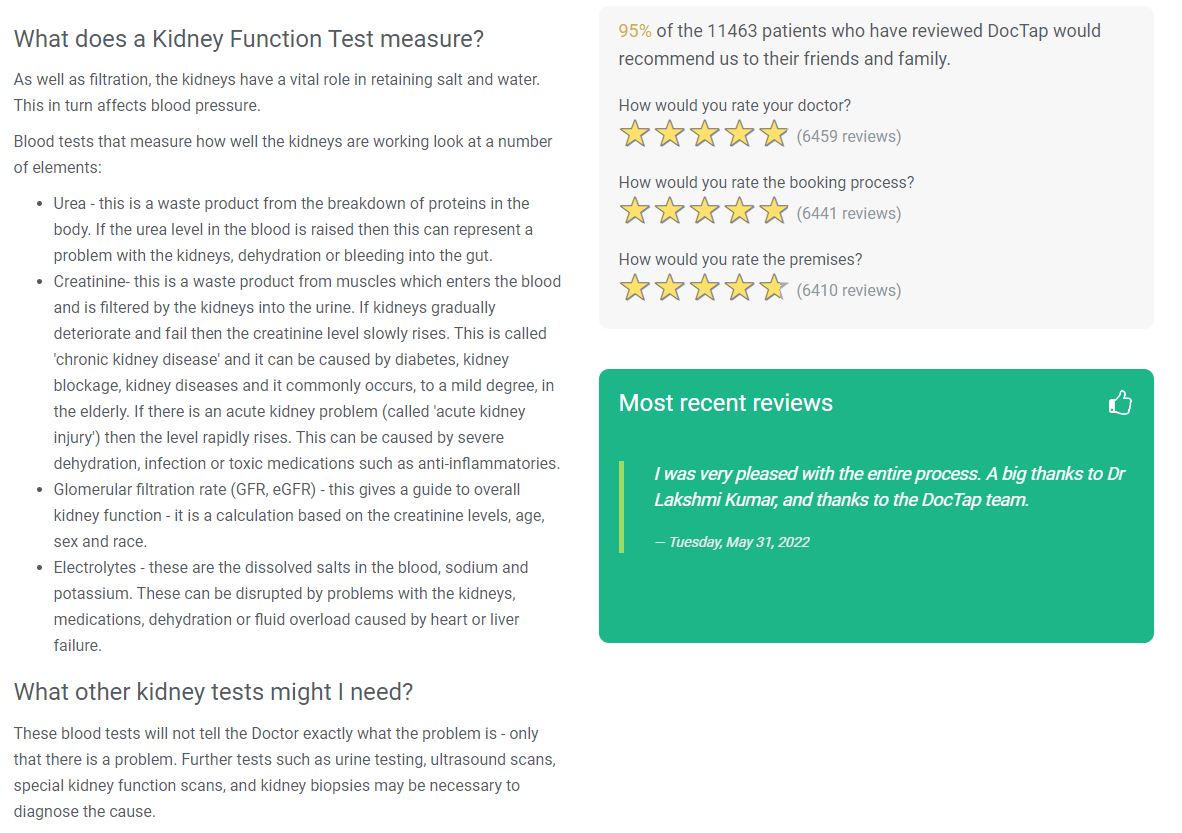 Example of a good structure showing patient reviews as well as answering questions in the content.
For additional content ideas and keyword research ideas, you can jump further into the page structure and content layout for further insights: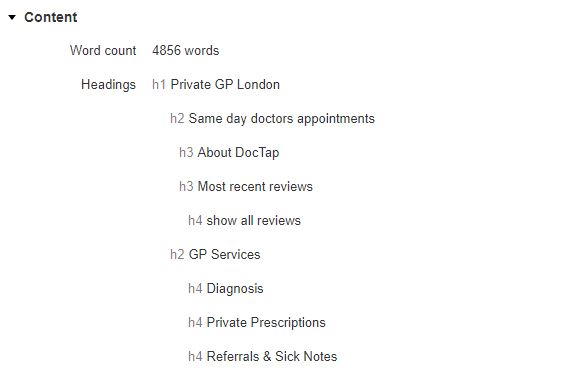 Example of a good structure showing patient reviews as well as answering questions in the content.
On Page SEO elements for a medical practice
Content Strategy for a Medical Practice
A content strategy is a plan to achieve your business targets and expand your website visibility through planned content. This content can be written, audio, visual, recorded, PDF, video etc.
A well-crafted content plan will also help to nurture and engage your audience and gain more patients over time.
The most common form of content is seen in written formats such as blog posts, articles and guides.
However, translating this content into audio and visual helps to reach a new audience and transform your content marketing approach.
According to an article by Hubspot, over 70% of marketers are actively investing in content marketing. Every doctor's practice needs to be utilising content in a manner that engages their audience and increases website traffic.
We helped a dentist in London increase their organic traffic by 151.09% in 12 months purely by utilising a content marketing campaign based on a solid content strategy.
Our strategy was to focus on solving a common problem with informative, medically sound content.
We focused on keywords that met a specific search intent and ones that provided an opportunity to be visual for a variety of similar keywords.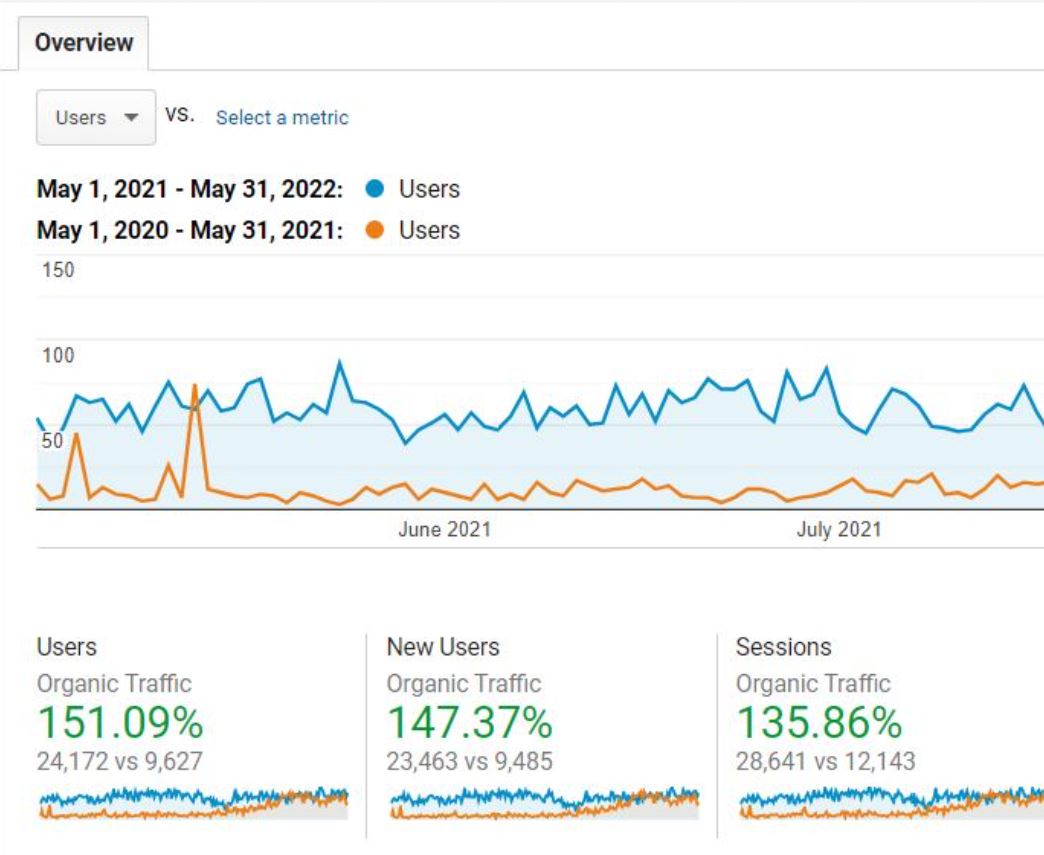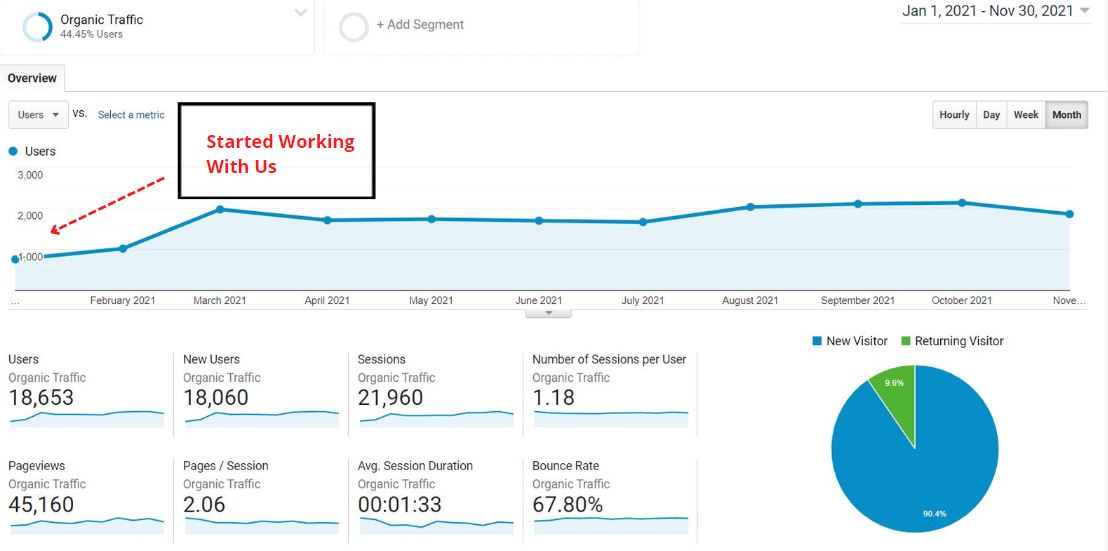 How Can You Create a Content Strategy for a Doctor?
Before jumping into content workbooks and topics, you need to identify what need you will fulfil with your content and what problem your content will solve.
This is the most essential purpose of a piece of content. In turn, it should bring you keyword improvements and organic traffic, but, it needs to help solve a problem or provide an answer to a common question.
Follow this general guide when drafting the foundation of your strategy. If the foundation is not correct, there will be stumbling blocks down the line.
Step 1: Solve the Problem and Provide the Answer
As discussed, your primary reason for creating a content strategy should be for solving a problem or providing an answer to a question that means a lot to your business/audience.
In healthcare, solving a problem for someone could be an easy-to-understand guide to prescription medication, or, a definition of a specific medication.
Or, writing content to explain what a patient can expect when they come for health screening or a cholesterol test is a way to answer a specific question and solve a problem.
If someone is searching Google for information about 'is a blood test painful', they are clearly having a problem with the worry around having a blood test and the potential pain involved.
Your solution can be in the form of a step-by-step explanation of the blood testing process and cover all of the details in that content.
You would address the potential pain involved and discuss how a patient can prepare themselves.
Think of a common problem(s) that your patients experience and then write content that solves that problem or gives them the answer.
Think of what a patient worries about and come up with ways that you can try to ease their worry and help them.
The list of potential topics would be endless.
Step 2: Identify Who Will Be Reading Your Content
Knowing your patient list will help you to know who will be reading your content and help you to tailor your content to meet their interests.
As a medical practice, you will have a huge variety of patients at different ages and stages of life, however, if you are able to identify common themes, age groups or interests, you can then segment your content for each audience.
For example, an older person may want to read a lot more information and enjoy in-depth content more than a younger patient.
The younger patient will read your content but they may prefer to scan through the points, skim the paragraphs and sub-headings and then spend more time watching a video about a topic.
There will be some patients who love podcasts and want to listen to audio. Interviews with doctors or an audio recording of a question and answers session by a specialist will be a great way to engage them.
Step 3: Knowing What Makes Your Content Better
Ask yourself: What makes my content unique? Why would new patients read my content instead of the medical practice down the road?
Despite doctors being in specific locations, there are still medical practice sites that will compete over website traffic in a specific location. Your content has to be more unique than the rest.
List reasons why your content is more unique, for example, doctors at your practice may specialise in a specific service, or, have a wealth of experience.
Think of all of the assets you have as a practice, and use this in your content.
Common Types of Content
In content marketing, there are many different types (forms) of content. These are the most common types of content.
Blog posts
Content that is published regularly and updated on an ongoing basis. These should be consistent and target specific search queries aimed at attracting new patients.
Blogs are also used to nurture existing audiences and to encourage them to share their posts online. It is also common to see dedicated email campaigns that alert email subscribers to new content on the blog.
On average, blog posts are between 1,000 – 2,000 words long but this is just an average. Word length also depends on what is performing best in Google.
Long-form articles
Long-form content aims to thoroughly educate a reader on a specific topic. The topic is covered in detail and contains extensive information.
Typically anything up from 1,000 words to 7,500 words is considered to be long-form content. However, the sweet spot in word count is around the 3,500 – 5,500 mark.
In healthcare, the majority of topics can require a long-form piece of content and this is a good thing as search engines like long informative content.
However, not all of your pieces need to be long. As long as the content solves a problem or provides an answer then you have won.
If you are going to embark on a campaign to gain sustainable traffic that remains consistent for a long period of time, then you should aim to have a very high word count.
Case Studies
A case study is a means of showing value and showing success with a certain method or process. A case study is extremely versatile because it can be in any form and be focused on anything of value within your practice.
Non-healthcare industries will use case studies to showcase how their product or online services have helped to improve business or drive revenue.
The NHS England has a dedicated case studies section that you can view here.
They cover many different topics but a lot of it showcases team-building skills, working in and managing different healthcare teams as well as joint ventures with certain communities.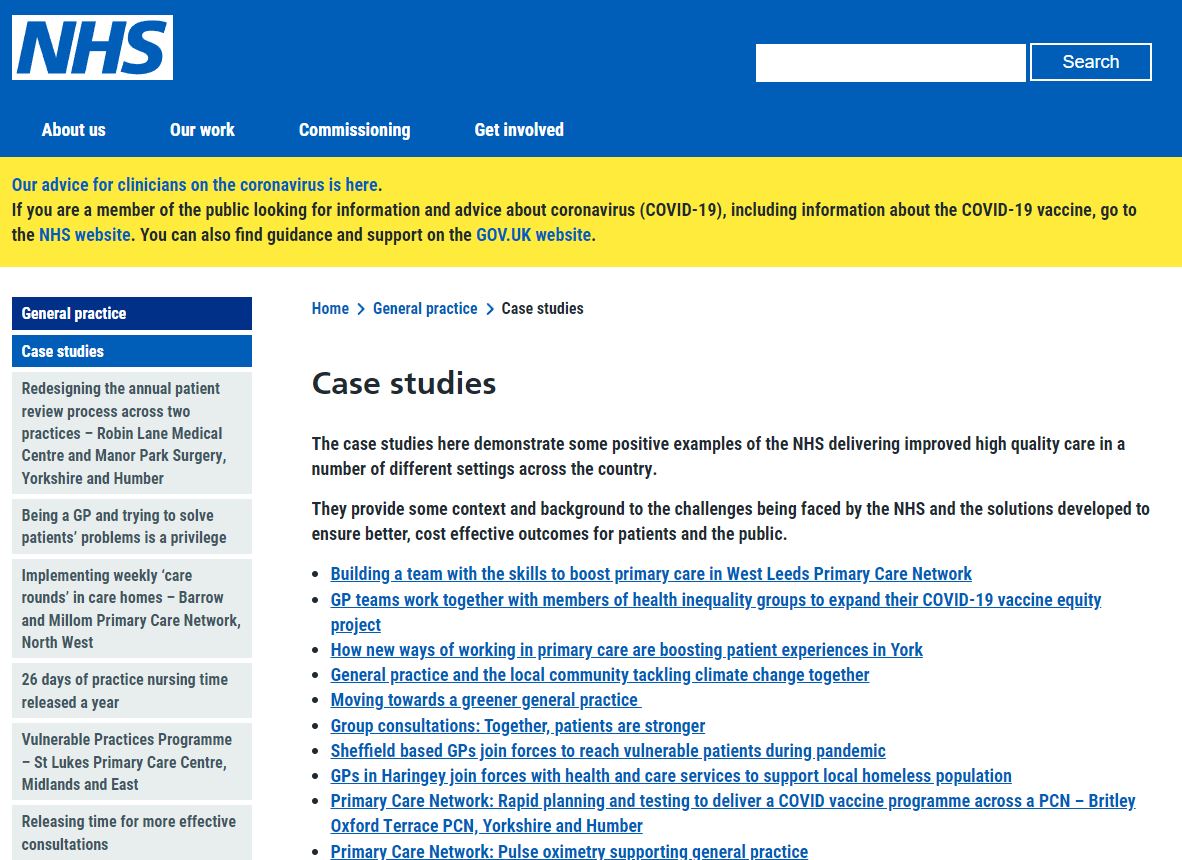 Example of Case Studies as an active means of driving traffic and keeping patients informed
Templates (uncommon in healthcare)
A template is not something you would see that often at all within healthcare, depending on what the service or product is. If it was medical software or a patient booking system (such as Dentally), then there could be room for some sort of creativity around this.
However, the principle of engaging your audience to solve a problem remains the same.
As an SEO agency, we would use a downloadable template that people can get for free and in return, we get their email addresses.
This is great for further down the line when we want to market a specific product or message to them.
Patient testimonials
Detailed testimonials from patients can help boost your overall credibility and trust for new patients.
This will also assist you in generating new traffic to your site as it is a new form of content to use within your content strategy.
Example of an inspiring patien testimonial used in the form of a video as well as a blog post.
Infographics
Take an article and transform it into a visual version by using graphics and pictures. 
Very often marketers take full advantage of basic design and layout skills to build a graphic version of a long-form article that can be shared on social media too.
Patients also enjoy viewing infographics provided that the content is laid out well and easy to understand.
It is not as hard as it used to be to create an infographic.
Take a look at canva.com/templates to get started in-house.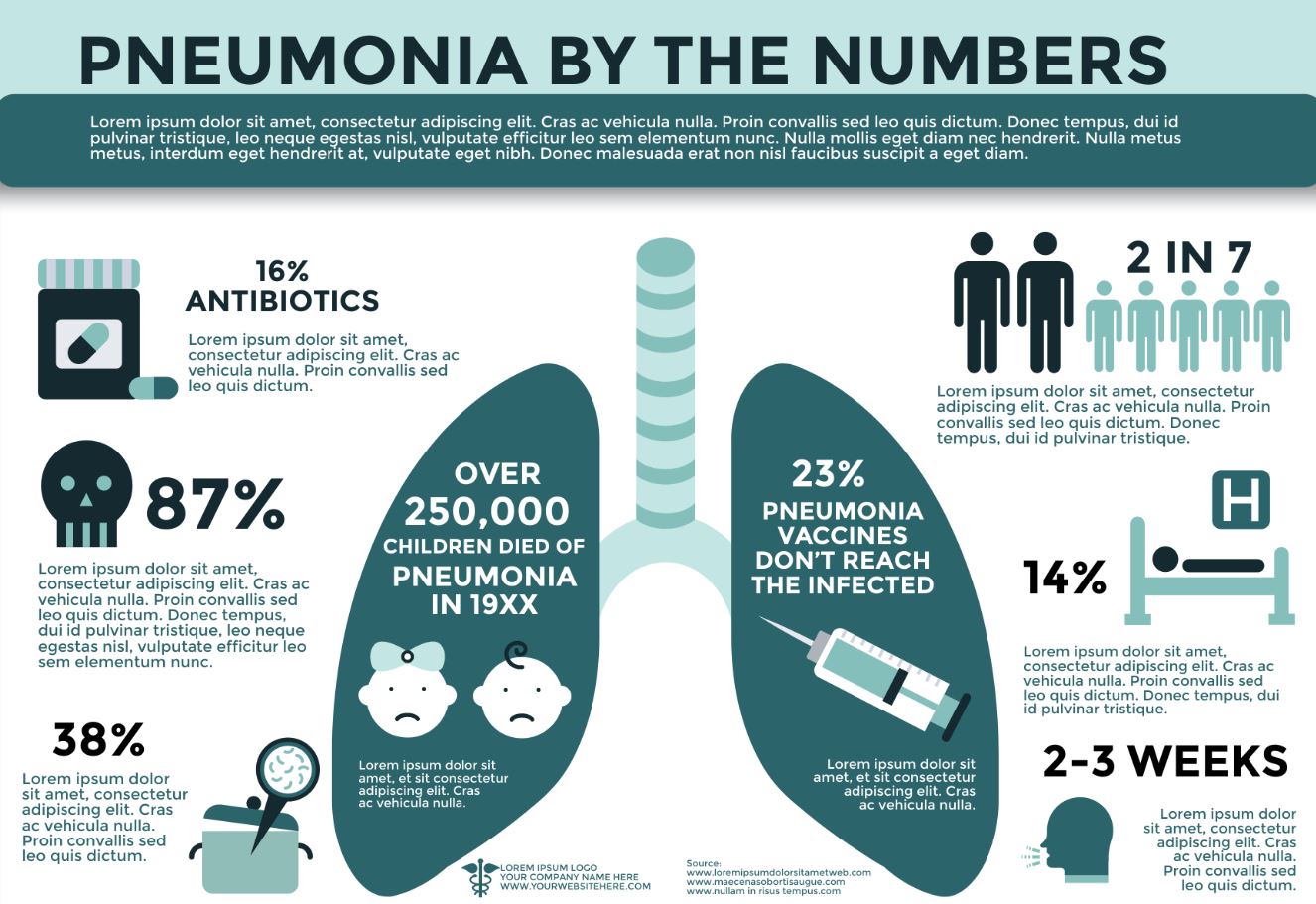 Medical practice infographic template portraying medical information
Link Building in the Healthcare Industry
Link building is the process of gaining external links and mentions from a third-party website. The website linking to you should be a relevant website that has high-quality existing content.
In principle, the more quality and relevant backlinks you get, the more authority you gain over time.
What is a backlink?
A backlink is a clickable link from an external website that points to a page on your website.
When that link is clicked, the user will be referred to your website. This will also pass over something that is known as 'link equity' over to your page.
The more link equity a page gets the more the page authority will increase.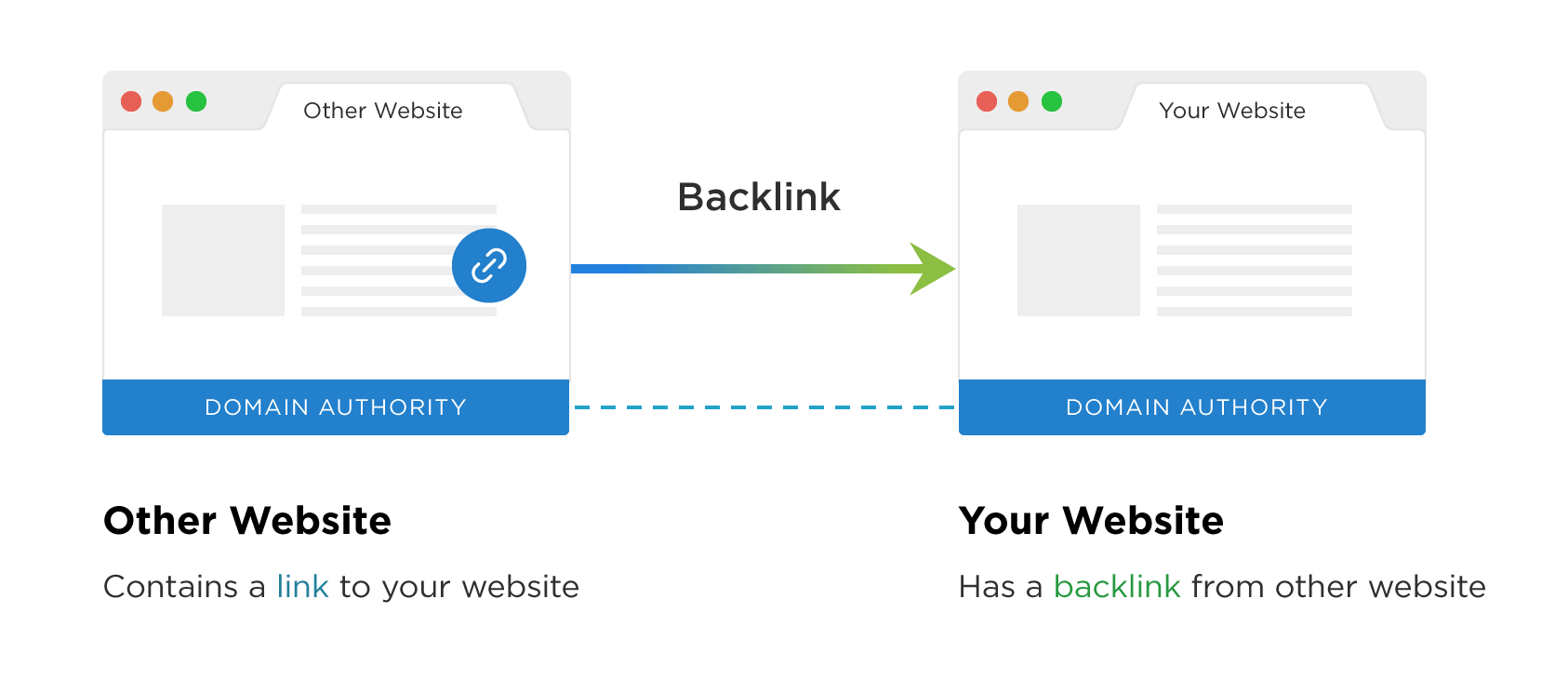 A visual example of how a backlink works linking from an external website back to yours
Backlinks are also known as inbound links as another website's traffic will come to your own site. In the world of link building, the quality and quantity of your backlinks impact your website's visibility online.
A backlink is seen as a vote of confidence in the eyes of search engines and plays a huge part in getting traction for your content.
In a study conducted by Ahrefs, they derived that a higher amount of backlinks directly correlates to an increase in organic search traffic.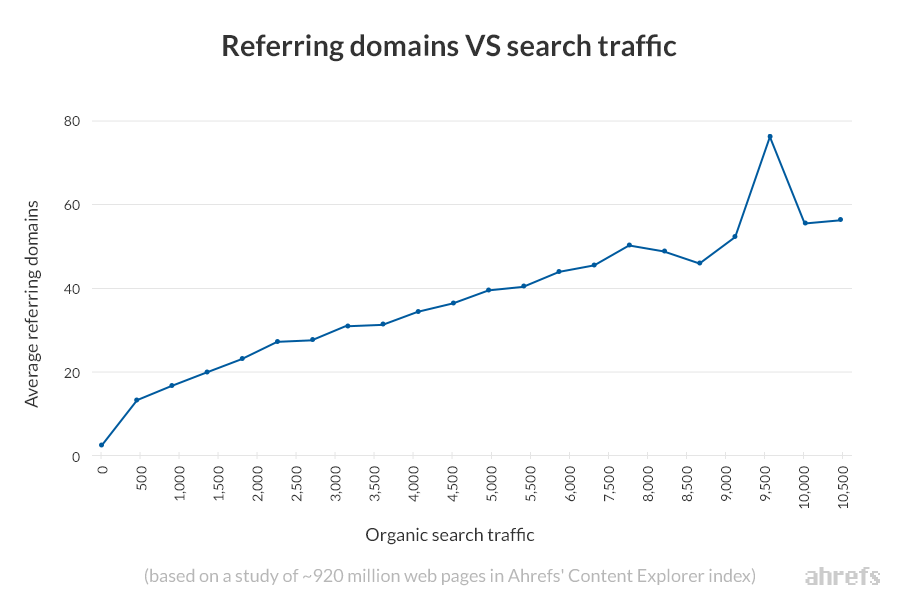 How referring domains impact higher search traffic and keyword rankings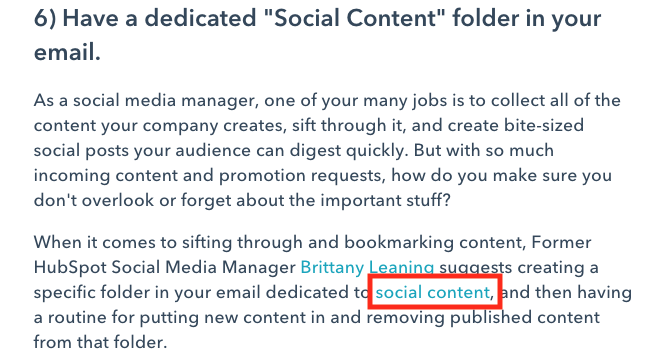 What a backlink looks like within a paragraph of text
Dofollow and Nofollow Backlinks
In link building, there are two crucial link attributes to be aware of – dofollow and nofollow links.
A dofollow link will pass link equity and SEO value to your page, including all of the Google history.
A nofollow link does not pass any link equity, SEO value or Google ranking history, BUT it will still send traffic to your website.
SEO people get obsessed with dofollow and nofollow links but there needs to be a balance. From an SEO perspective, you must try to acquire followed (dofollow) backlinks but do not overlook a possible link opportunity with a highly relevant website in your niche that performs very well just because it is a nofollow link.
If you do, you are missing the point!
If a nofollow link comes from a well-known website or news publication, it ranks well on Google and has a lot of organic traffic, then go for it. The most important part is to drive quality traffic to your website first.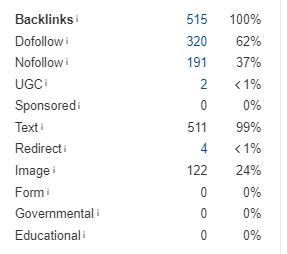 Using Ahrefs to see the different types of backlinks pointing to a website
What Type of Backlinks Do You Get?
Every backlink strategy is different and you need to approach each medical practice client with a unique strategy.
A backlink can come in different forms and even images can have a clickable link.
The following four types of backlinks are common:
Resource page links
A resource page is a roundup or listicle article that contains links to other websites that contain helpful information.
These do now always have long-form content but are aimed to be more suited to bullet list type of content with external links.
Guest posting & Blogger Outreach
Guest posting is the most common form of link acquisition and it involves writing and contributing to a third-party website in exchange for a link back to your site.
You will need to pitch the topical ideas to the website prospect as well as create unique content for them to use.
Within your content, you can add a link back to your website (keep it natural) and request the publisher to follow the article as you have written it.
You can also engage with bloggers who actively write content in your niche. They may have built up a good profile over time and write blogs for large publications. 
Essentially, you would pay them for their time, the content and a link from their network. 
Broken link building
Broken link building is when you scan similar content to your or your competitor's content and find links that are broken in the article. 
If you have a piece of content that is similar and relevant to the topic on their website, you can contact the site owners to let them know they are linking to a dead page and you can offer your page as a replacement link.
Broken link building has a lower success rate, however, it can be a powerful way to get links over time.
HARO link building (help a reporter out)
HARO is a free service that provides journalists with a robust database of sources for upcoming stories and daily opportunities for sources to secure valuable media coverage.
Using HARO and engaging with journalists requires a lot of time and dedication. 
You would sign up, receive their daily email notifications and then write short topics, comments and suggestions to pitch your content to them. It is seen as a contribution to their article and in return, they will mention your name or your brand name as well as link out to your home page.
HARO links are extremely powerful and can be hard to get due to the high-quality sites. It is totally worth the effort.
HARO Case Study
In 2021, we ran our own HARO (help a reporter out) campaign for 3 months. We monitored journalists and Web PR communications and managed email responses and contributions. The outcome was a huge success for both website authority (domain strength) as well as organic traffic.
We had an increase in 233% in domain rating from 12 to 40/100 as well as an increase in keyword rankings of 182%.
There was also an increase of 266.97% in new users from organic search.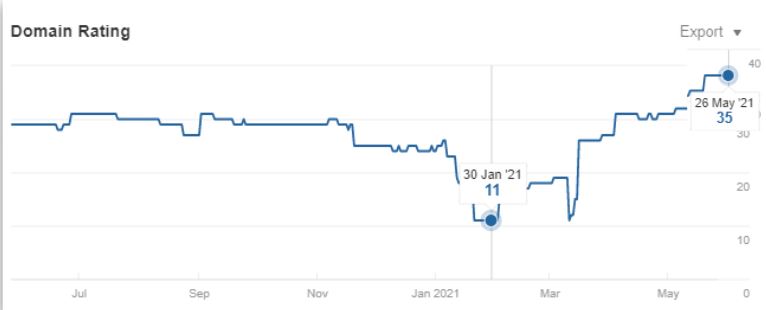 Example of an increase in Domain strength from HARO link building for 3 months

The increase in organic traffic after the 3 month HARO link building campaign
Summary and Next Steps
SEO for a medical practice is a solid investment and private doctors should be actively investing in SEO and content marketing.
Doctors, ask yourselves the following:
When last have you had your website reviewed?
How do you stack up compared to the local competition?
Have you spoken with an agency that can accurately forecast your organic traffic over 12 months?
How much revenue are you losing by not ranking number 1 for core keywords?
How often are you engaging with your patients via testimonials, blog posts and articles?
Are you taking full advantage of reviews on Google?
Is your medical practice seen as a credible healthcare provider?
Book a 15-minute consultation call with us
Book a direct chat with our SEO Director to discuss your SEO marketing needs. Of, ask any questions about your website or speak about anything that may be confusing about medical practice SEO.
Alsternatively fill out a form below and we will get right back to you!